National Match Armory:
AMMO FOR SALE!!!
We have decided to sell a portion of the high quality surplus ammo we have collected over the years for our own use. Rather than sell it to a broker in one lot, we have decided to sell it in small lots to our website faithful.
This is a new endeavor, so the procedure may be modified as time goes on.
For the time being we will be selling the ammo in 100-round lots ONLY. Each 100 round lot will be packaged and shipped individually via UPS.
You may buy as many 100-round lots as you desire (quantity is extremely limited!!!!!), but each will be shipped individually.
Shipping charges will be "per lot", and will be the same for all locations within the lower 48 states. NO SALES to Alaska or Hawaii.
EVERY ORDER MUST be accompanied by a statement that you are at least 21 years old and are legally entitled to purchase rifle ammunition in your state. No exceptions.
EVERY ORDER MUST be accompanied by a photo copy of your photo ID (driver's license only, please). No exceptions.
Payment may be by cashier's check, money order or credit card (MC or Visa only. Please include card number, expiration date and complete billing address)
NO PHONE OR EMAIL ORDERS - MAIL ONLY
PLEASE ALLOW 30 DAYS FOR DELIVERY
If you have any questions, please call 817-874-9115 during business hours...and please, keep your questions brief.
Portuguese 7.62 x 51 (.308) FMJ 147 grain Nato Spec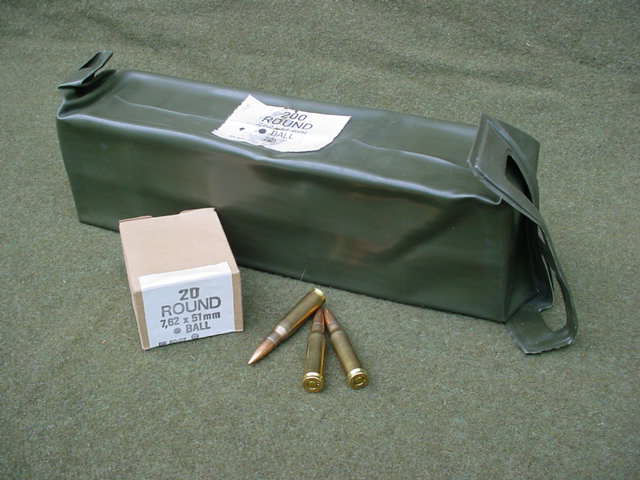 This ultra-high quality surplus ammunition has earned a reputation for being reliable and extremely accurate when used in gas-operated service rifles such as the M1 Garand (when chambered in .308), M1-A and M14-type rifles.
It's great stuff...just ask around! But, it's almost impossible to find.
I have personally used this ammo in almost all my match shooting, local, regional and even at Camp Perry, at the 200 and 300 yard lines. And on more than one occasion from the 600 yard line as well, with remarkable success.
It's plenty accurate...and, when compared to M852, it's plenty affordable as well. And, it shoots to almost the same zero as M852 at 200 and 300, so it makes great practice ammo!!!
At approximately 2800 fps, it is plenty fast and has a very low extreme velocity spread when chronographed, which means you get very consistent speed. The 147 grain semi-boat tail projectile has a fairly low drag coefficient and are very consistent weight, both of which contribute to outstanding accuracy and retained energy.
All ammo has been carefully stored and was packaged in sealed vinyl battle packs until opened for sale. It is bright and shiny, like that in the photos, and will arrive in sealed 20-round boxes as shown. Head stamps may vary from that shown in the photos, but will be consistent within each 100-round lot.
(Brass case, Berdan primed (non-reloadable), copper-clad semi-boat tail 147-grain NATO-spec projectile.)
$60 plus shipping per 100-round lot.
(Shipping rate will be announced as soon as it has been determined)
Thanks for joining us. Come back soon.
* * * * *
National Match Armory
"Why settle for less?"
Thanks for visiting www.nationalmatcharmory.com. Come back soon.